Kelly Payne
Investigator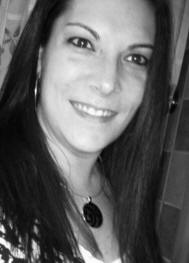 I have always been curious about the paranormal. I remember my first experience that really made me want to see more. I was in New Orleans, Louisiana and went on a walking ghost tour with some colleagues. We were standing on a street corner looking at one of the supposedly haunted buildings. The next thing I knew I was watching a woman, dressed in period clothing, ride a bike around the corner and disappear down the street! It was an such an...click here to continue

2012
Ghost Hunter
of the Year
---

Weldon
Lead Investigator / Tech Engineer
My First Experience With The paranormal was when I was 8 Years old, I woke up, to see my Favorite Uncle (Who had passed 2 years before) standing by the side of my bed, smiling at me.. I was not scared by this, I just wanted to know more.. Flash forward about 11 Years later, and I'm working the overnight shift at a radio station, I'm on the air, doing my thing, and see a older gentlemen, looking at me from my right side out in the hallway.. I turn my head, to get a better look at him, and he is just standing looking at me, smiling....click here to continue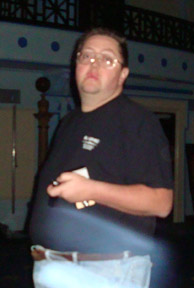 2010
Ghost Hunter
of the Year
---
Tyra

Case Manager / Investigator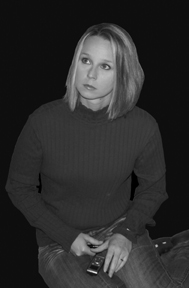 I have had experiences with paranormal activity since I was little, everything from seeing shadows to occasionally hearing things. I especially experienced these things after the loss of a loved one; within a few days of their passing, they would visit me and my family. I always thought it was because the houses we lived in were haunted. When I moved out on my own and these experiences were still happening, I quickly realized that it was me that must be sensitive to ...click here to continue

2011
Ghost Hunter
of the Year
---

I am a man of science, who consequently believes in faith of all kinds. As a Christian, I uphold the belief and understanding of the Grand Architect of the Universe. Bridging the gap of understanding between what exists in our world, other dimensions and the afterlife is my priority.

The search for real answers to paranormal activity is my quest. For decades, many have tried to advance the science of ...click here to continue
---

Art Percy
Science Officer
A little bit about me. I grew up in Fort Wayne Indiana. I attended Northrop High School and graduated in 1996. From there I went to ITT for 2 years taking classes in electronic engineering. I then left for the U.S. Navy to be a Submarine Sonar Tech where I did 2 Combat Deployments to the Middle East after 9/11. Also while in the Navy, I took many Navy college courses, which resulted in multiple degrees of B.A. or equivalent in subjects such as: Oceanography, Underwater Acoustics, Sound Navigation and Ranging, Electronics and...click here to continue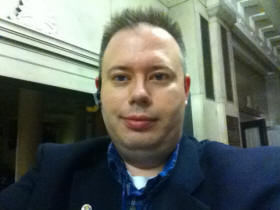 ---
Jen
Communications Expert / Investigator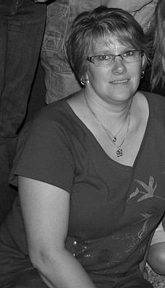 I am not your typical paranormal investigator. I am a mother of two and a Speech Language-Pathologist working with the birth to three year population. I have not had any personal paranormal experiences and have not been brought up in a religious household.

I am very curious about ...click here to continue
---

Beverly
Gemologist / Investigator
I have seen... and believe it. Even though I haven't experienced much. I'm very interested in paranormal investigations and what it can give to me.
I worked at a place that gave me not only experience. But have heard many stories about paranormal sightings. This lead me...click here to continue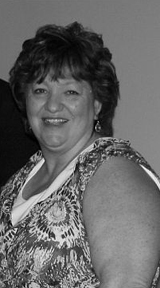 ---
Jessica
Alternative Religions Expert / Investigator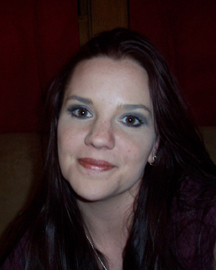 My first experience with the Paranormal happened when I was very young. As I grew up, these experiences became clearer and more frequent. Although I attended very strict private schools, I was fortunate to have grown up in a fairly open-minded household; so I never really feared these odd events; they have always been a part of my reality.
My interest in the Paranormal became very personal after several near-death experiences I had during open-chest surgery...click here to continue
---

Kimber Mills
Investigator
As a child I was different than most children. I would see black shadows. I would sense feelings of danger, sadness, someone watching me, and calmness. I would get chills sometimes on one side of my body and sometimes all over my body. My sister and I thought it was the house we lived in, until we moved and it followed us. I saw my great grandma after she passed away. I also would dream something and... click here to continue
---
---

Eddie
Investigator
Growing up on the south side of Chicago Illinois in a town called Joliet, my first ghost experience when I was living with my grandma. I would always hear things that could not be explained and see things that were not supposed to be seen, but I did. It really scared me at the time because I had no clue as to what was going on. I would always run to my mom's room because there would be an old lady laying in the bed next to me.

As I got older, I learned that...click here to continue