Art Percy
Science Officer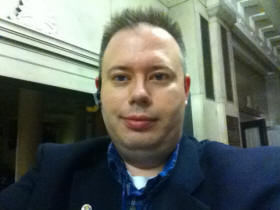 A little bit about me. I grew up in Fort Wayne Indiana. I attended Northrop High School and graduated in 1996. From there I went to ITT for 2 years taking classes in electronic engineering. I then left for the U.S. Navy to be a Submarine Sonar Tech where I did 2 Combat Deployments to the Middle East after 9/11. Also while in the Navy, I took many Navy college courses, which resulted in multiple degrees of B.A. or equivalent in subjects such as: Oceanography, Underwater Acoustics, Sound Navigation and Ranging, Electronics and Microprocessors, Advanced Mathematics and Physics, Computer Technology, and PC Repair and Diagnostics. After being injured during my second deployment, I was medically discharged. I then worked for Simplex Grinnell until I got laid off earlier this year. While there, they sent be back to school for Pelco Camera Systems and DVR Systems Programming as well as Small Panel Programming and 4100U Systems and Programming. I am also A+ and Dell certified.

My first experience in the paranormal was when I was about 10 when I started having night terrors. I would wake up in the middle of the night with the feeling that there was a presence in the room and it terrified me. I would hyperventilate, could not move, and would see a rather large shadow standing next to my bed. It would touch me on my arm or leg and wherever it touched me, it felt as if that appendage was asleep. It seems that I have always lived in a haunted house. The shadow appeared by my bed most every place I have lived. On the night before 9/11, I experienced the most recent and most horrifying night terror yet. I had just begun to go to sleep when it started. This time it actually showed me a vision. I was standing in a lobby that was on fire. There were people running around screaming and trying to escape the falling flaming debris. As they were trying to flee the building, I saw these evil-looking creatures appear. It looked like they were devouring the fleeing people's souls, sort of ripping them from their bodies, and the creatures wanted me to watch this devastation.

Unexplainable things have been happening to people all over the world for thousands of years. I, myself, have seen things when I was growing up that I cannot explain. For example, box fans turning on full speed by themselves in rooms where no one had been for hours, and things on the fireplace mantle moving on their own. I am a firm believer in God, as well as science, and I believe that there are explanations to everything one way or another. There are so many theories as to why things occur, but no one has given suitable explanations as to why these things happen. Why are we communicating with a spirit here and not here? Is death a form of metamorphosis, like a caterpillar into a butterfly? Nobody knows for sure. There is an old saying I am fond of, "Your theory is crazy, but not crazy enough to be true."